UNICEF - Rights Respecting School
Shoe Share Appeal
The ambassador organised a shoe donation and successfully collected and donated lots of shoes.
Dear Buntingsdale
I am writing to you having been made aware of your recent shoeSHARE donation and on behalf of Clarks I would like to thank you all for your amazing contribution.
Clarks have been working in partnership with UNICEF since 2008 to help to fund educational projects by raising money through shoe donations.
UNICEF is the world's leading organisation working for children and child rights. Working in more than 190 countries with families, local communities, business partners and governments, UNICEF works to help every child reach their full potential. UNICEF UK is a registered charity and is funded by voluntary contributions.
Your shoes will help to change children's lives by buying educational equipment and by ensuring the quality and standard of education being received is high, so children across the world are leaving school able to read and write.
Please also find attached the photos taken in our Stoke Mothercare World store.
We are always very grateful for any donation made and we thank you once again for your kind interest in our partnership.
With kind regards
Emma Robins
External Relations Support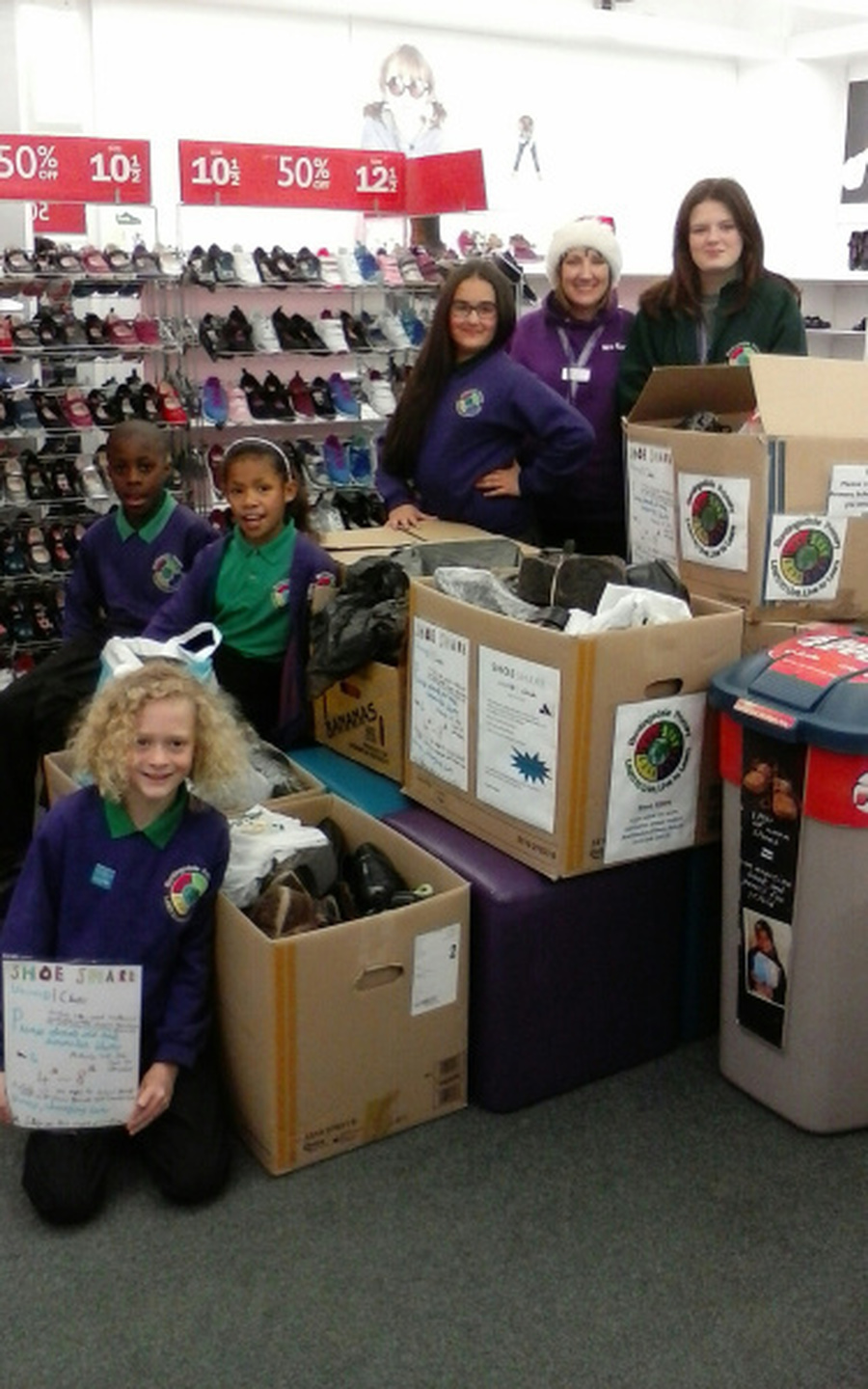 Rights Respecting School Award
The UN Convention of the Rights of the Child is the most widely ratified human rights treaty in history. It was adopted by the UN General Assembly in 1989 and ratified by the UK in 1991.
The Convention has 54 Articles. Articles 43 -54 are about how adults and governments must work together to make sure all children get their rights. See unicef.org.uk
The school began to consider the Rights Respecting School Award in January 2016.
All school staff and members of the governing body attended a one day training event led by one of UNICEF's national training staff.
We learnt about the Conventions of the Rights of the Child and how we might raise the profile of this with the pupils and families of Buntingsdale as well as within the wider community.
Comments from the training day
I have enjoyed today's training. It explained the role of UNICEF well both in the UK and the wider world
Enjoyed and learnt a lot - very informative
relevance to school is now clear
thought-provoking materials
a good step forward for the school
Learned more about specific Articles in the UN Convention and how I might relate this to work in school
It drew my attention to how the world can be changed in small ways and over time
Focusing on the Rights pf the Child is gradually being added our curriculum topics within different year groups.
Working within the RRSA further develops global learning themes and approaches to learning that are already part of our way of working at Buntingsdale.
Through an action group we have now completed an audit and the governing body made a formal commitment to working towards gaining the Award on the 16th June 2016.
What difference will it make?
We should see evidence of:
the Rights of the Child Articles referred to in teachers' planning
including links to global learning
children learning about the Rights of the Child during class based and whole school activities
the Rights of the Child being referenced in displays and working walls around the school
pupils and adults being able to give examples of the Articles
pupils and adults referring to the Articles with respect to promoting a positive environment within the school including behaviour management
pupils and adults are more aware of the links between the Rights of the Child and how these relate to our school Value of the month, to British Values and to themselves as informed, involved and active global citizens
pupils and adults more aware of how implementing the Rights of the Child can support bigger issues such as the reduction of global poverty
how charitable school fund raising can link to the Rights of the Child in either a local, national or international context
the Rights of the Child referenced as is appropriate within the development of school policies